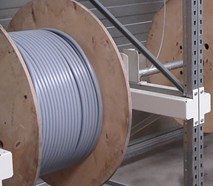 Cable Reel Suspension
For storage of large cable reels or carpet rolls that are supported on an axle through their center to be stored in the rack.
Often used by clients who need to rotate the reels to dispense measured lengths of cable prior to cutting.
The unit consists of two carriers spanning between, and bolted to the front and back rack uprights.
The top surface of the carriers is perforated allowing adjustment in the position of the axle guiding devices. These guiding devices are supplied in left and right hand versions, and support either end of the axle.
Axle
The type and size of axle required needs to be designed to suit the cable reel, the load, and the bay clear entry.
Each cable reel suspension level is limited to 1000kg. However, the supporting rack can be fitted with as many levels as required, up to the maximum bay load permitted by the rack design.
Standard Finish = painted RAL 9002
Load capacity
Maximum load per pair: 1000kg
Maximum permitted horizontal force on supporting rack: 25kg