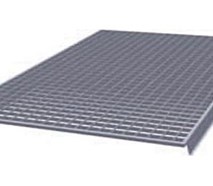 Grating Module
Grating modules are a heavier duty alternative option to other pallet rack decking components. The grating modules sit on the pallet racking beams and act as a shelf.
Manufactured from steel strips that are press locked together, these grating modules are suitable for both light and heavy duty applications from small cartons to heavy industrial tooling. Their shaped profile ensures that the grating module will not easily dislocate from the pallet racking beams.
Grating modules are hot dip galvanised finished (as standard) making them particularly suited to high humidity or external applications.
Grating modules, with their large open cross-sectional area, are ideal for use in ambient warehousing as well as chill stores and freezers as it allows the even distribution of air and thus temperature. They also allow the permutation of sprinkler water in the event of a fire, offering a safer alternative to wooden shelving.
Grating Modules are suitable for use storing pallets, as the pallet does not have to be supported by the beams. They can also be used as a safety guard in tunnel bays to protect operatives and warehouse handling equipment from falling goods that may become dislodged from pallets.
The weight of the grating module must also be taken into account when specifying the supporting pallet racks.
Grating Modules are available in a range of standard sizes and load capacities. They can also be manufactured to suit your application.