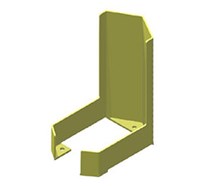 CR18 Low Beam Protectors
These new column protectors allow usage in pallet rack configurations with low beam levels as the height is only 94mm in the back and 400mm in front.
This column guard is fixed in front of the upright
It protects the bottom 400 mm of an upright against damage caused by impacts from the fork lift trucks.
The column protection consists of an U-shaped protective shield that is welded to 8mm thick baseplates.
The small height in the back (only 94mm) allows installation under low beam levels.
The first protection can be used with 90 and 100 Uprights and the second protection from above table can be used with 120 Uprights with Standard or Heavy Duty Baseplates only.
The floor fixings (concrete screws) are inserted through 30mm high rubber bushes (40mm exterior diameter and 13mm interior diameter) that absorb the shock of an impact.
The rubber bushes and concrete screws must be ordered separately.